We see the internet as being a global network, a level playing field, a way to access all the information and tools we need.
If "we" refers to English speaking members of developed countries, then you'd be correct. But for the majority of the world, that is not true.
I believe that we as creators of software have a responsibility to change that, and I want to do my part.
A big company like Evernote can have its website and tools available in 24 languages, which is great. But what can tiny independent software vendors like me do to make software truly global?
The answer is simple: "Try."
Language
I don't believe that having English as a de facto language in realms such as politics and science is a bad thing. A common language is an incredibly useful thing to have. As someone who went to an English-speaking school in an Arabic-speaking country, I deeply appreciate the reach of the English language.
But we can't use the commonality of English as an excuse to alienate non-English speakers.
I sometimes get support messages in stilted English, where the first thing that the user does is apologize to me for their English. I think this is completely backwards.
If I'm selling software on the internet, you should be able to contact me in whatever language you're most comfortable. The responsibility should be on me to translate and understand.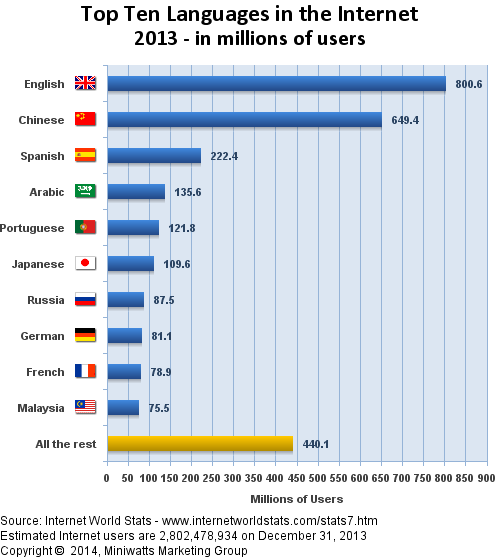 Step one: At least greet people in their own language, as a courtesy.
I am learning a growing list of casual greetings and sign-offs in various languages. It's a small step, but an important one.
Step two: Make it clear that we accept support requests in all languages. I can't afford a multi-lingual support staff, but I do have access to Google translate, and it's really not that hard to piece things together with a little bit of context.
Connectivity
I've been silent about this out of guilt, but I won't be any further.
Gingko requires you to be online at all times.
It sucks, and I'm aware of that.
Even with an always-on high-speed connection, I too resent the fact that if the net goes down, I can't write. That I can't take my laptop to a quiet library without wifi and get my work done (a great deal of which happens in Gingko).
If I, in Canada's second largest city, find the need to be connected a restriction, what of the millions upon millions across the world who have less reliable connections?
This is changing, and I've made some bit of progress with Gingko offline recently, but it's quite a challenge. Of one thing I am certain: However difficult it may be, being offline-first not an optional feature for global software.
Broadband always-on internet is simply not affordable to most of the world.
Cost
Which brings me to another challenge of global software: pricing.
A dollar for someone in the US or Canada is something you can lose and forget about. For someone in Malawi, it most certainly is not.
So why not scale prices by local purchasing power?
While it would be possible, it would also be a challenge to implement.
What about "pay what you want" models?
This is simpler to implement, but the barrier is a different one: Fear.
Fear that I won't be able to support my own family, in the interest of making Gingko more globally accessible.
Is it a rational fear? Maybe not, but it's there and until I can be rid of it, I and many others feel stuck on a traditional monthly fixed-price subscription.
An Open Mind
Making global software has its technical challenges. There are payment and currency issues, the cost and time associated with implementing and maintaining multiple languages, the challenge of rewiring the software's architecture for offline access.
But none of these are insurmountable, or even necessarily more challenging than implementing a large feature.
The biggest challenge to global software is mindset.
It's the choice to place the burden of translation on ourselves, and not our users. It's the willingness to consider radically different pricing models. It's the courage to replace fear and secrecy with trust and openness.
To paraphrase the visionary leader who created VISA, Dee Hock:
In the end, it's about forgetting about how things were and how they are, and thinking instead not of how they will be, but how they ought to be.
---
Links & Further Reading: