Gingko is, and always has been, small, self-funded, and profitable. It continues to grow steadily, via word of mouth alone.
But I've reached the limit of what I can accomplish alone. For a long time, I believed I faced a tough choice:
Take the path of selling Gingko off, and hope that my successor follows the spirit of the project and doesn't let it die.
Take the path of opening Gingko up completely in one shot, and risk irrevocably damaging the business. Thereby failing in my responsibility to my current users, and the family I help support.
Devote all my energies to growth and profit, and stop making improvements until I achieve "scale". Go big or go home.
Each had its attractions, but none are ideal. But, towards the end of the 5 month journey I took with my wife and son, I realized another option: "sell" Gingko to the world. Open-source Gingko, but raise a buffer to support both my current users, and my family in the transition. Bring Gingko, and its vision, to a wider audience.
So, here's what's in store: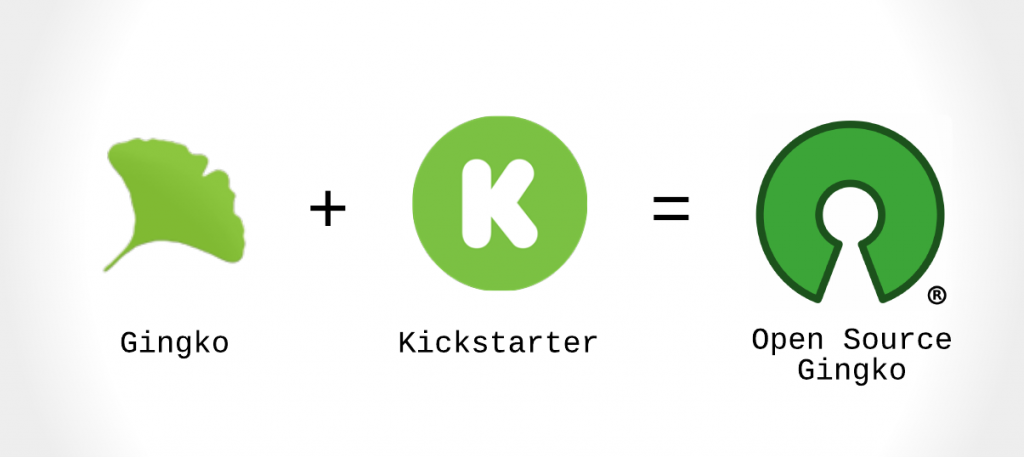 I'm creating a Kickstarter campaign to accomplish several things at once:
Open-sourcing isn't just "flipping a switch". It's going to take significant time and energy to make it work. If the campaign is successful, I'll be able to dedicate myself full-time to the transition.
Whether I realized it or not, Gingko for me was never about massive profits. I simply wanted it to be sustainable (meaning, make enough support the work of the developers), and to have an impact. Raising funds from Gingko's users is a way of growing while remaining independent, so that this spirit remains part of the project.
The Kickstarter campaign is also an attempt to reach a wider audience. I'm doing my best to make it appeal to both current users, and those who've never heard of Gingko.
I also hope that the campaign will attract a core group of users with a collaborative spirit, to help with improving Gingko as it grows: via feedback, design discussions, translations, and code contributions (in the form of core improvements, or new plugins).
---
There are many of you who've followed along with Gingko's journey from the beginning. I am grateful for all the support you've given me over the years.
And I'm sorry for the long hiatus in posting here… I know it's given the wrong impression (that Gingko development is slowing down), when nothing could be further from the truth. I'm an introvert. So when I really need to make progress, I go into a sort of cocoon. Especially during incubation periods where I'm trying to make strategic decisions, like this one.
Of course, for me personally, this will be my biggest challenge in open-sourcing: being available to those who want to help Gingko grow.
But we can start here!
Your feedback now, and as I develop the campaign, will have a multiplying effect if the campaign is successful. In other words, helping me craft the campaign is a huge help to me, and to Gingko's long term future.
Tell me your thoughts, and questions in the comments.
What excites you about this?
What worries you? Or are you indifferent?